Ahh! it is now 1999 and altho there was some rain
we all had a blast!
Click HERE to check out the Movies & Pics!
And get ready for this summer!!!!!

Trinicom's New Years 1999 Web Cam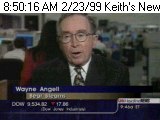 The count down BEGINS!
It will be updated once a minute and should be running straight untill the 1st.
Our mascots (Oscar & Poo head) are warming up the grill as you read this!
You might catch glimpses of one of my dogs or Jay (Black Om?) and myself getting things ready.
Refresh once a minute to get a new picture.
Once the party is over and I have recovered, I will post highlights and avi movies here!

See ya at the party!

visits